The Supreme Court of Texas says the people don't own property in Texas!
Avery has shown the following:
The State only has two sources of lawful authority, namely, the adoption of pre-constitutional common law and direct delegation of authority of the people by election:
Avery has shown ad valorem property taxation is feudal and repugnant to the applicable pre-existing common law of every state in the Union blocking its adoption by the State.
Avery has shown that individual citizens do not possess authority to either surrender their property to the State or to take the property of any other person and therefore cannot delegate such an authority to the State to alien and take anyone's property for the failure to pay or perform duties for the creation or support of the State or any of its subdivisions.
Austin Texas, July 18, 2017 Opening Day of the First 2017 Special Session to address PROPERTY TAX REFORM and 19 other issues:

Ronald F. Avery declares that ad valorem property tax is feudal and repugnant to the common law of every state in the Union and hence the Texas Constitution of 1876 and must be vacated. He is in the Supreme Court of Texas after two year long property tax protest beginning at the Guadalupe County Appraisal District in Seguin, Texas. He summarizes his brochure to some of others that know this and helped him pass out 1000 brochures. He is right in front of the Supreme Court of Texas (to his back) with Capitol in background. He also gave the presentations on every side of the Capitol many times all day with his megaphone.

He was interviewed by Dillon Collier and camera man Josh of KSAT TV News San Antonio and Cori Coffin of KVUE TV News Austin, both ABC affiliates. He gave a short, complete, and concise summary of the brochure he gave them. KVUE ran none of it but focused on the Bathroom bills. KSAT took a tiny slice of it and sandwiched it between gender confused bathroom switchers and teacher pay raise advocates to make Avery look like an ignorant religious prude who wants to deprive children of an education sending them a horrible message (https://www.ksat.com/news/politics/silent-protest-marks-opening-of-texas-legislature-special-session).

This is Dr. Michael McCann and some of his office staff that agree that government is not created to own property but to protect it.
We must stop being distracted by fake news and fake issues created by wealthy tyrants to prevent us from owning and defending our property

The Texas Court of Appeals could only defend Property Tax by their presumption that it was part of the common law present before the ratification of the 1876 Constitution of the State of Texas.

Even if that was so, and that is an unproven assertion, Avery has shown it was a mistake in the lawfully applicable common law according to four of the main founders of the United States of America.

Therefore we want to correct this mistake now so join us in Austin at the Capitol all day long and pass out our educational materials at all entries on Tuesday, July 18, 2017.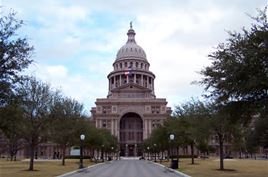 Avery Appealed to the 25th State District Court the Ruling of the Guadalupe County Appraisal District and Appraisal Review Board finding that Texas does have Authority to alien the property of the People and make them tenants in their own homes and on their own land and in their own businesses and make them renters and evict them if not paid.
Avery maintains and shows irrefutable superior testimonal evidence from the founders of America that the purpose of the entire United States was to 1) secure ownership of property for all citizens with an unalienable superior allodial title which destroys the feudal land and property system upon which "ad valorem property tax" is based, and; 2) establish religious freedom by removing the canon law from government. That is to say: To secure the Ownership and Possession of unalienable untaxable Property and Secure the Exercise of Religious Freedom.
The 4th Court of Appeals in San Antonio answered on April 12, 2017 that the Texas Constitution of 1876 is not the beginning of the law but a continuance of the common law that was in existence prior to it and all definitions and principles in it are presumed to have existed in the prior common law.
Avery is glad they said that because he has shown that "ad valorem property tax" is the feudal system which is repugnant to the common law that should apply in all states of the union. The Saxons of England owned their property with an "allodial" title, like that of a king, and government cannot alien it for any purpose. That means property is not taxable!
Avery then filed his Petition for Review to the Supreme Court of Texas on 5/31/17 one day after Memorial Day in celebration of our true inheritance from our forefathers showing that the appeals court addressed the common law that should be the foundation of the constitutional law but could not show any source for the feudal ad valorem property tax. The appeals court only said they "presume" it to be present prior to the constitution of 1876. Avery showed this to be false with direct, unchallenged, irrefutable, expert, supreme testimonial evidence from the founders, John Locke, Thomas Jefferson, John Adams, and Samuel Adams.
The Supreme Court of Texas Denied Avery's Petition for Review making Civil Tyranny the law of the land, where ad valorem property tax, or state ownership of all property reduces all people to tenants, thereby dissolving the said "State of Texas." See the summary of Supreme Court and COA's ruling here and at #15 on the right hand menu.
Mean while School District Builds Commercial Water Park & Planetarium without authority with $20 million left in their budget from other school districts under the Robinhood Plan Funded by Unlawful Property Taxation:
2019 Letter to the entire Texas House and Senate and Gov. & Lt. Gov about Civil Tyranny must be stopped in Texas: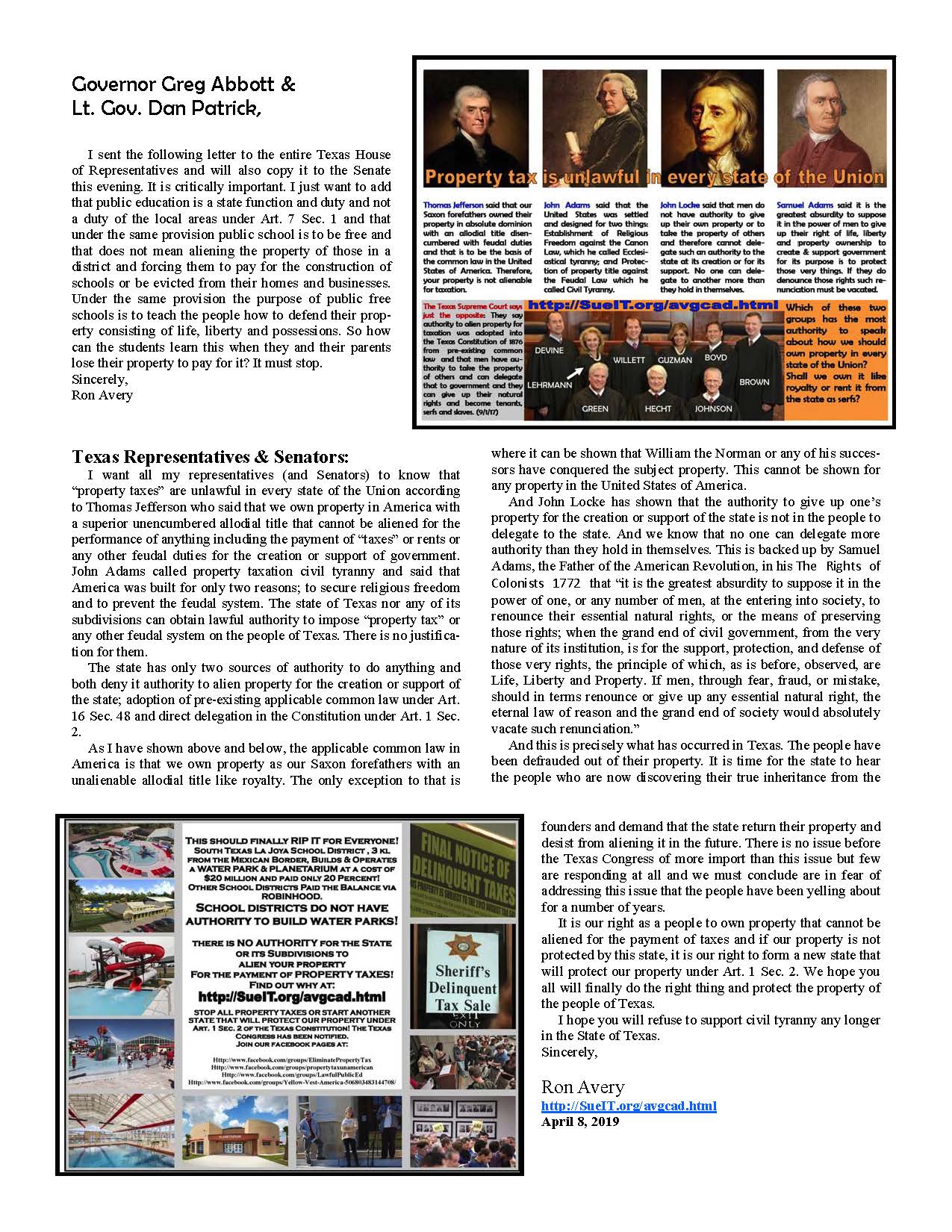 Peoples' Forum on Unlawful Property Tax / Feudalism
January 26, 2019 in Buda Texas at Comfort Suites Hotel:
Tea Party Tax Day Rally in New Braunfels, Texas Monday 4/15/19 and
Ron's 6 minute Proof of why Property Taxes are Unlawful in Every State of the Union at 26:30

Mark Anderson, host of Stop the Presses on Republic Broadcasting Network, and Ron talk about the Tea Party Tax Day 4/15/19
All Property Tax Forums Organized by Linda Coones in Comal County are Live Streamed to this Link
See more video reviews of stages of protest and appeal at this link